Tilapia and Catfish – are the recommended
Fish is the main source of animal protein in Africa, of which tilapia & catfish have been predominant. An ever-growing surge in demand for these two species worldwide creates great opportunities that can benefit many Africans within a short period.
Community Farming Initiative
Small-scale aquaculture farming, also known as family fish farm, and backyard farming., has attracted more and more attention worldwide. Community farming relies on the family's working capacity for daily operation that relies on central powerful data support and supply of inputs.
The initiative places its production system among families who are living around water sources. Using small modular rearing ponds or any other system, such as cages, concrete, ponds etc., a family can operate a number of cages/ponds according to its available land.
The families are supported by the center unit that supplies raw material, services, and purchasing of fish yields for processing and marketing.
A management and support center operates the fingerling hatchery, feeding center, laboratory, extension service, supplied to the farmers.
The managing center also operates the processing plant, cold storage rooms, marketing, distribution, equipment store, credit assistance and other elements for business integration.
Operating as stars and satellites, the plan will involve extensive relations not just between the center unit and families, but with local equipment and feed suppliers, research and extension officers from the Ministry of Agriculture and potential customers.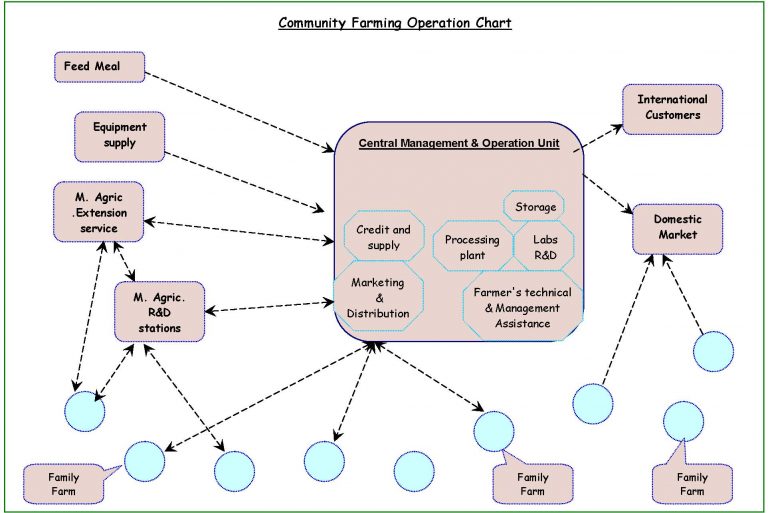 Community Farm in Africa (Cages & Earth ponds)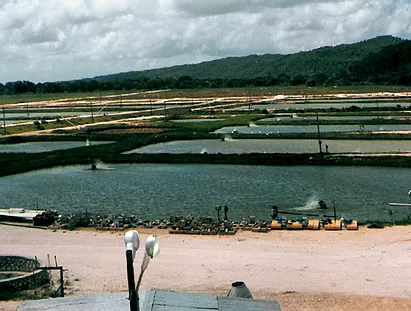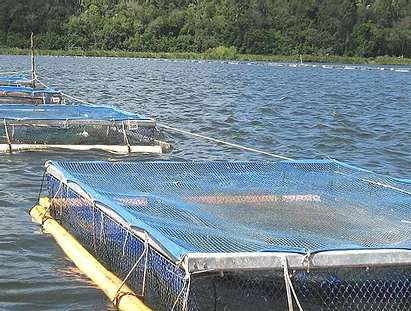 Implementation
The initiative is designed as a rolling project, starting with an initial pilot, involving and supporting a few dozen families in the beginning, up to hundreds of families, with the aim of producing thousands of metric tons of fish per annum.
Marketing
While part of the families' production may be used for self-consumption and selling to informal markets, most production should be sold to the central processing plant, and from there to export and to the domestic market.
Rationale & Benefits
National/State Benefits:
The project will supply work and income for hundreds of families that are involved in fish farming, most of them women in the central service unit.
Additional income and labor employment come from suppliers of cages, equipment, feed etc.
The initiative can be quickly implemented, and can start its production within a few months. Its short production cycles, less than 6 months, allow for an immediate impact on society.
Enables quick economic impact in rural regions, at a relatively small capital investment.
Reduces unemployment by supplying jobs to women and unskilled men in the processing plant and fish rearing in their own yard.
Improves foreign trade balance, since most of its supply comes from the local market.
Reduces malnutrition, illnesses and medical cost.
Benefits for Individuals:
Enables poor families to set up their own small business – access to financing, markets and knowledge they can't obtain otherwise.
Increases household's income, improves welfare and wealth distribution.
Reduces food cost for family and external expenditure on food.